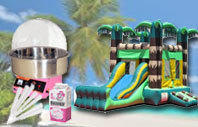 Tropical Combo CC Package
Base price is for a rental period between 1 hour and 6 hours. Additional hours can be added at $15.00 per hour

This package includes our Tropical Combo Bounce House, our Backyard Cotton Candy Machine and one carton of Pink Vanilla floss along with 70 paper cones.

Our Tropical Combo Bounce House provides hours of fun as your kids will jump in Tropical Themed Bounce Hosue! This bounce house is 21 feet wide by 13 feet deep and is 15 feet high. One attended is required to monitor play while children are playing. This attendant can be someone that you provide, or Parties Inc. can provide an attendant at an additonal cost.

The amount of children bouncing in this bounce house is limited to 10 children aged 2 to 8, 8 children age 9 to 12, and 6 children 13 and above. Due to safety issues, adults are not allowed in bounce houses other than to help a child in and out of bounce house. Children must be at least 2 years of age to play on inflatables.

This bounce house can be set up on grass, a drive way, school black top, or inside a gym. A set up area of 25 feet wide by 17 feet deep by 15 feet high is required. A regular 15 amp circuit is equired with nothing else running on it. Normally, your back yard outlet will work fine!